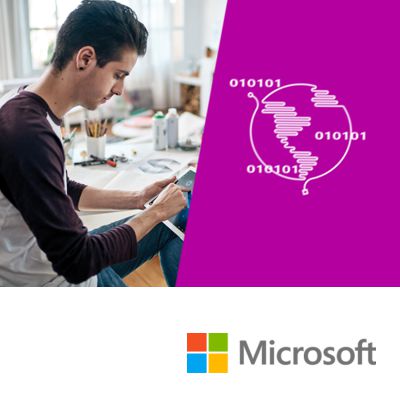 Business Intelligence for IoT Solutions
Rp500,000
Description
Unit Outline
Instructor
Additional information
Certificate
Reviews (0)
Description
About this course
Discover and report the trends in your business data that lead to insights and improvements. This course will teach you how to use the latest data visualization tools to create reports using historical and live data.
Are you ready to create data visualization reports that help you to discover hidden trends in your business data? Do you want to get up-to-speed on the latest tools?
This course guides students through a series of lab activities that provide hands-on experience querying and visualizing data. After completing this course, students will be able to construct IoT data visualizations that allow a business to gain insights related to its operations.
The first module examines the characteristics of time series data – how it can be used for analysis and prediction. It specifically walks the student through how IoT telemetry data is typically generated as time series data and techniques for managing and analyzing it with Azure Time Series Insights.
Module two takes a closer look at specific features of Azure Time Series Insights – how it can be used to store, analyze and instantly query massive amounts of time series data.
In the third module, students get a general introduction to using Power BI, with specific emphasis on how Power BI can load, transform and visualize IoT data sets.
In the final module, students will move from using BI with static IoT data sets to working with real time streaming IoT data. Students use Azure Stream Analytics as a data source for Power BI and explore the unique capabilities and insights that provides.
Course Prerequisites
IoT terminology and business goals
Data analytics tools and techniques
Modern software development tools
What you will learn
After completing this course, students will be able to:
Describe when and why to use the Time Series Insights and Power BI data visualization tools
Install and configure Time Series Insights
Connect Time Series Insights with IoT Hub and Event Hub
Configure data retention and create a reference data set
Build dashboards and heat maps
Scale the environment and manage resources using templates
Transform Data using Power BI Desktop
Model data using the Power BI Desktop
Visualize data using the Power BI Desktop
Create a Dashboard using the Power BI Service
Configure Organization Packs, Security and Groups
Get your IoT hub ready for data access by adding a consumer group
Create, configure, and run a Stream Analytics job for data transfer from your IoT hub to your Power BI account
Create and publish a Power BI report to visualize the data
Estimate Time : 8-12 hours
Module 1: Time Series Data
Lab 1: Introducing Time Series Insights
Lab 2: Producing Simulated Data
Lab 3: Provisioning Time Series Insights
Lab 4: Analysis with Time Series Insights
Module 2: Visualizing and Querying Data
Lab 1: Setting Up Data Generation
Lab 2: Using Time Series Analysis Patterns
Lab 3: Using Advanced TSI Features
Lab 4: Managing Time Series Insights
Module 3: Power BI and IoT
Lab 1: Introducing Power BI
Lab 2: Transforming Data
Lab 3: Modeling Data
Lab 4: Visualizing Data
Module 4: Streaming with Power BI
Lab 1: Using Power BI with Streaming Data
Lab 2: Configuring Power BI
Lab 3: Using Power BI in an IoT architecture
Lab 4: Sharing Power BI Dashboards


Chris Howd
Senior Content Developer Microsoft
Chris Howd is a senior content developer at Microsoft who focuses on creating training products for the developer audience. Chris started working at Microsoft in 1999, just before the first .NET Framework products were released as beta previews, and has been involved in supporting the launch of .NET products ever since. Most recently, Chris has been working on developer training that supports Microsoft Azure PaaS, Azure IoT solutions, Windows 10 UWP, and Windows 10 IoT Core.

Matt Dixon
Owner/Founder Front Range Systems
Matt is owner and founder of Front Range Systems, a software consulting company focusing on custom software solutions for its clients. Matt has over 16 years of professional development experience, and loves solving complex problems with simple solutions. He has helped organizations through mentorship and training and specializes in professional and enterprise solutions with various technologies including HTML5, AngularJS, ASP.Net, WPF and C#.

Rob Colins
RCP Consultants
Rob Collins has been a developer and consultant for more than 20 years. He has worked with companies ranging from small startups to multinational corporations. He has developed enterprise applications for health care, insurance, and government clients. He has also developed applications for every major entertainment studio. He is currently owner and principal consultant at RCP Consultants, a services company specializing in application architecture and development. Previous employers have included Avanade and EMC.
Additional information
| | |
| --- | --- |
| Author / Publisher | Microsoft |
| Level | Beginner, Intermediate |
| Language | English |
Certificate
When you enrolled into this course you will automatically get a Certificate of Participation for completing the course. An example is provided below.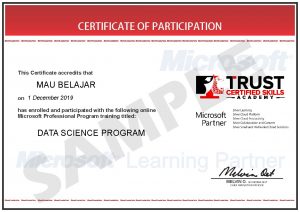 ---
Only logged in customers who have purchased this product may leave a review.