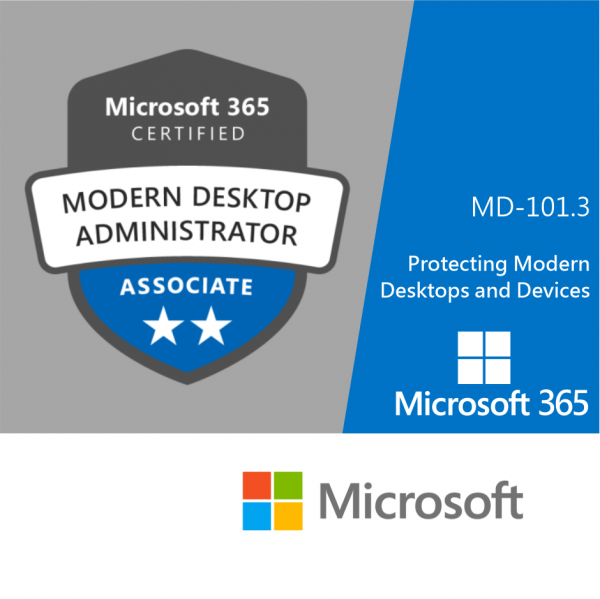 Protecting Modern Desktops and Devices
Rp500,000
Description
Unit Outline
Instructor
Additional information
Certificate
Reviews (0)
Description
Course Overview
Every day, more organizations are asking IT to support mobility in the workforce. Modern environments require the Desktop Administrator be able to manage and support phones, tablets, and computers, whether it be owned by the organization or personally owned by the employee. At the same time, IT must still be able to protect the data that these devices access. In this course, the student will be introduced to the key concepts of security in modern management. This course covers authentication, identities, and access, as well as about how to protect these categories. The student will be introduced to Azure Active Directory and learn how to use Microsoft Intune to protect devices and data with compliance policies. Finally, this course will cover key capabilities of Azure Information Protection and Windows Defender Advanced Threat Protection and how to implement these capabilities.
What You'll Learn:
Describe the benefits and capabilities of Azure AD
Manage users using Azure AD with Active Directory DS
Implement Windows Hello for Business
Configure conditional access rules based on compliance policies
Describe the various tools used to secure devices and data
Implement Windows Defender Advanced Threat Protection
Prerequisites
The Modern Desktop Administrator must be familiar with M365 workloads and must have strong skills and experience of deploying, configuring, and maintaining Windows 10 and non-Windows devices. It's recommended that students complete the Windows 10 courses (MD100), MD101.1, and MD101.2 prior to taking this course.
Estimate Time : 8 – 12 hours
Course outline
Module 1: Managing Authentication in Azure AD
In this module, students well be introduced to the concept of directory in the cloud with Azure AD. Students will learn the similarities and differences between Azure AD and Active Directory DS and how to synchronize between the two. Students will explore identity management in Azure AD and learn about identity protection using Windows Hello for Business, as well as Azure AD Identity Protection and multi-factor authentication. The module will conclude with securely accessing corporate resources and introduce concepts such as Always On VPN and remote connectivity in Windows 10.
Lessons
Azure AD Overview
Managing identities in Azure AD
Protecting identities in Azure AD
Managing device authentication
Enabling corporate access
Lab : Practice Lab – Managing objects and authentication in Azure AD
Enabling and configuring Azure AD Premium with Enterprise Mobility + Security (EMS) tenant
Creating user and group objects with UI and Windows PowerShell
Configuring Self-service password reset (SSPR) for user accounts in Azure AD
Joining a device to Azure AD
After completing this module, students will be able to:
Describe the capabilities of Azure AD.
Manage users using Azure AD with Active Directory DS.
Implement Windows Hello for Business.
Join devices to Azure AD.
Describe methods of enabling access from external networks.
Module 2: Managing Devices and Device Policies
In this module, students will be introduced to managing device security with Intune. Students will discover how Intune can use device profiles to manage configuration of devices to protect data on a device. Students will learn how to create and deploy compliance policies and use compliance policies for conditional access. The module concludes with monitoring devices enrolled in Intune.
Lessons
Microsoft Intune Overview
Managing devices with Intune
Implement device compliance policies
Lab : Practice Lab – Managing devices
Configuring Microsoft Intune for device management
Configuring compliance policies and device profiles
Enrolling Windows 10 devices and managing compliance
After completing this module, students will be able to:
Describe mobile device management with Intune.
Create and assign device profiles to protect data on devices.
Deploy compliance and conditional access policies.
Use Intune to monitor device compliance.
Module 3: Managing Security
In this module, students will learn about data protection. Topics will include Windows & Azure Information Protection, and various encryption technologies supported in Windows 10. This module also covers key capabilities of Windows Defender Advanced Threat Protection and how to implement these capabilities on devices in your organization. The module concludes using Windows Defender and using functionalities such as antivirus, firewall and Credential Guard.
Lessons
Implement device data protection
Managing Windows Defender ATP
Managing Windows Defender in Windows 10
Lab : Practice Lab – Managing Security in Windows 10
Configuring Encrypting File System (EFS)
Configuring BitLocker
Configuring a WIP policy in Intune
Configuring Windows Defender
After completing this module, students will be able to:
Describe the methods protecting device data.
Describe the capabilities and benefits of Windows ATP
Deploy and manage settings for Windows Defender clients.

Brian Hinkelman – has over 20 years' experience in IT, working as a Desktop Technician, Network Administrator, IT Manager and Web Application Developer. In recent years, he has worked as pre-sales engineer in the enterprise space, and formerly a Microsoft Datacenter TSP. Brian now manages the Modern Desktop track at Microsoft Worldwide Learning.

Damir Dizdarevic is the CEO of the one of the largest IT companies in Bosnia and Herzegovina—Logosoft d.o.o. Sarajevo. He has a BSc in Mathematics and is a Microsoft Certified Solution Expert (MCSE) in several specialization areas; a Microsoft Certified Solutions Associate (MCSA) in both Office 365 and Azure; and a Microsoft Certified Trainer (MCT) specialized for cloud, infrastructure, and identity solutions. In the 20+ years of his career in IT, Damir mostly worked as a systems designer, project lead, and consultant. Damir regularly writes Microsoft Official Curriculum (MOC) courses and very often speaks at Microsoft conferences about identity and data protection, Office 365, Exchange, and related topics. He is the founder and president of a Bosnian community of Microsoft users, administrators, engineers, and developers (MSCommunity BiH). He consistently receives high grades as a speaker at Microsoft conferences in Europe and at non-Microsoft IT conferences. So far, he has published more than 400 technical articles for various IT magazines and portals. In the last few years, he has actively authored MOC courses about identities in Azure and about Office 365. Damir has been a Microsoft Most Valuable Professional (MVP) since 2007 and a Microsoft Regional Director since 2017.
Additional information
| | |
| --- | --- |
| Author / Publisher | Microsoft |
| Level | Intermediate |
| Language | English |
Certificate
When you enrolled into this course you will automatically get a Certificate of Achievement for completing the course. An example is provided below.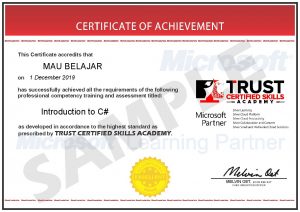 ---
Only logged in customers who have purchased this product may leave a review.