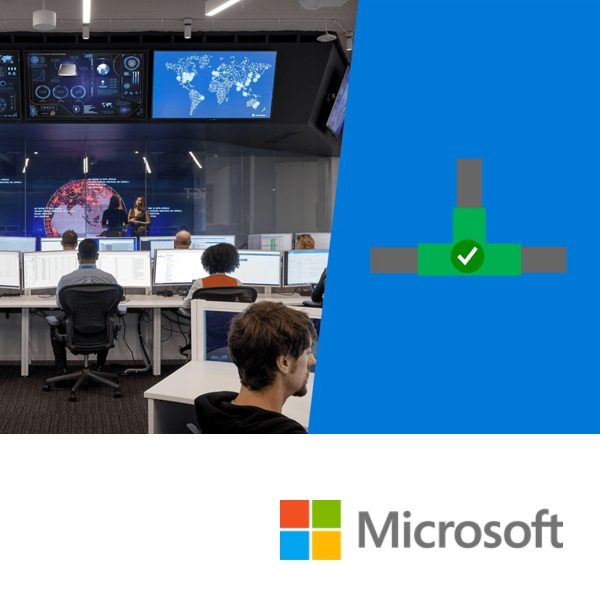 IT Support: Networking Essentials
Rp500,000
Description
Unit Outline
Instructor
Additional information
Certificate
Reviews (0)
Description
About this course
This course is part of the Microsoft Professional Program Certificate in IT Support.
IT Support: Networking Essentials is designed to introduce the core networking concepts to learners who are new to IT Support. The course begins by explaining the purpose of networking and then examines how networks are configured in homes, offices, between offices, and around the world with the Internet. This includes a review of network topologies, physical networking, and network protocols. The course concludes with an introduction to network troubleshooting, including how to troubleshoot common networking issues.
What you'll learn
Understanding networking topologies
Understanding LANs, WANs and the Internet
Understanding wireless and wired networks
Understanding network protocols
Understanding TCP/IP
Troubleshooting networking using built-in networking tools
Prerequisites
There is no prerequisites for this course.
Estimate Time : 8-16 hours
Module 1 Network Overview

Distributed Systems
Internet, Intranets and Extranets
Types of Networks and Network Topologies
Lab
Module 2 Physical Network

Networking Concepts
Wireless Networking
Wired Networking
Lab
Module 3 Networking Protocols

Protocol Overview
Introducing TCP/IP
Network Services
Lab
Module 4 Network Troubleshooting

Network Troubleshooting Overview
Networking Tools
Networking Troubleshooting Steps
Lab


Martin Coetzer
Senior Content Developer, Learning eXperiences Team Microsoft Corporation
Martin Coetzer is a Senior Content Developer with the Microsoft Learning eXperiences team. He is responsible for managing the Office 365, Exchange, Lync, SharePoint, Office and Dynamics certification portfolios. Prior to this Martin was a consultant with Microsoft Consulting Services (MCS) responsible for architecting and deploying Microsoft technologies at medium to large customers around the world.


Pam Glazier
Content Specialist Microsoft
Pam Glazier holds a Bachelor's degree in In British and American Literature from the University of California at Berkeley, and has been involved in technology, narrative deconstruction, and adult pedagogy for more than 15 years. She currently works as a technical writing and instructional design consultant for Cadence Preferred. She specializes in working with technical subject experts to create content that is easy for multiple global audiences to consume, understand, and learn from.



James Seymour
Principal Content Publishing Manager Microsoft
James Seymour has a background in training and consulting with more than 20 years of IT industry experience focused primarily on infrastructure and messaging. Currently he manages the Cloud Productivity team at Microsoft Learning, which builds content about Office 365 and related products, and IT Support topics.



Tony Frink
Senior Content Development Manager Microsoft
Tony Frink is a 35 year veteran of the IT industry, with a background in ERP technologies, Microsoft Dynamics CRM, and Microsoft Office. He spent the first 18 years of his career in ERP software development and professional services management. He has spent the past 17 years with Microsoft and is currently a Senior Content Development Manager on the Cloud Productivity team at Microsoft Learning. He is responsible for developing training content about Office 365 and related products, as well as IT Support topics.
Additional information
| | |
| --- | --- |
| Author / Publisher | Microsoft |
| Level | Beginner, Intermediate |
| Language | English |
Certificate
When you enrolled into this course you will automatically get a Certificate of Participation for completing the course. An example is provided below.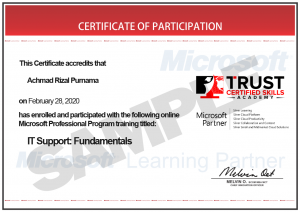 ---
Only logged in customers who have purchased this product may leave a review.