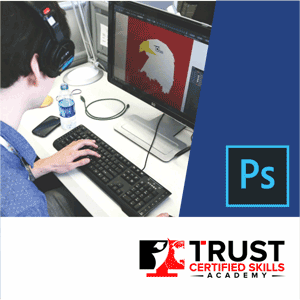 Photoshop Teknik Retouching dan Efek Wow untuk Fotografi Potret
Rp500,000
Description
Unit Outline
Instructor
Additional information
Certificate
Reviews (0)
Description
About this course
Dalam kursus ini, kami telah menyertakan pengetahuan dasar yang harus anda ketahui tentang photography, selanjutnya kita akan masuk pada sesi koreksi foto, yang mana dalam sesi ini anda akan mengetahui bagaimana cara melakukan pemeriksaan foto, hingga melakukan koreksi warna, pencahayaan, distorsi, dan masih banyak lagi yang lainnya.
Pada akhir pembelajaran anda akan mampu melakukan berbagai teknik yang biasa dilakukan oleh para editor photo retouching portrait seperti teknik beauty retouching seperti melembutkan kulit, menghilangkan noda, menambah riasan dan banyak lagi teknik photo portrait retouching yang lainnya.
Masih penasaran apa saja yang akan anda dapatkan? Lebih lengkapnya ada dalam unit outline
What you'll learn
Edit dan perbaiki foto portait secara profesional di Photoshop.
Tingkatkan pencahayaan, warna, komposisi, dan ketajaman dengan Photoshop.
Terapkan teknik retouching Photoshop standar industri dalam foto potret.
Gunakan Photoshop untuk membuat efek khusus pada foto potret.
Ubah foto berwarna menjadi hitam-putih dengan cara artistik di Photoshop.
Menerapkan berbagai efek khusus & Stylizing
Requirements or Prerequisites?
Siswa memerlukan Adobe Photoshop (lebih disukai versi Creative Cloud; versi percobaan gratis juga baik-baik saja).
Section 1 : Teknik dasar photoshop dalam fotografi
Introductory to Section
Jenis dan mode file gambar
Bekerja dengan 8 bit dan 16 bit
Format file dalam photoshop
Keyboard shortcut
Terminology warna dalam photoshop
Overview tool photoshop dan teknik penggunaanya
Summary
Section 2 : Koreksi foto potret dengan photoshop
Introductory to Section
Pengantar koreksi foto
Teknik pemeriksaan foto dari Debu, Bintik dan Goresan
Mencerahkan dan melakukan penyesuaian level foto
Menyesuaikan Kurva untuk Meningkatkan Pencahayaan
Memperbaiki foto white balance
Mempertajam foto potret
Koreksi distorsi lensa
Memotong dan meratakan foto
Tugas I : Pemilihan warna dan pencahayaan yang tepat dalam foto
Summary
Section 3 : Teknik retouching foto potret di Photoshop
Introductory to Section
Prinsip Teknik retuching potret
Menghapus lingkaran mata hitam
Cara menghilangkan keriput
Membuat mata lebih besar
Menajamkan mata
Menghapus garis merah pada mata
Memutihkan mata
Mengubah warna mata
Membentuk kembali alis
Membentuk kembali gigi
Memutihkan gigi
Membuat bibir lebih sensual
Menambahkan atau menyesuaikan lipstick
Menambahkan glossy shine ke bibir
Memodifikasi hidung
Menghapus rambut liar
Menambahkan sorotan cahaya ke rambut
Teknik seleksi rambut menggunakan select and mask
Mengubah warna rambut
Meringankan bayangan pada wajah
Menghapus area hotspot pada wajah
Menghilangkan noda
Menghaluskan kulit dengan teknik adjustment layer
Melembutkan kulit dengan teknik high pass
Melembutkan kulit dengan teknik channel as layer new
Menambahkan riasan digital
Teknik terlihat lebih ramping 1
Teknik terlihat lebih ramping 2
Tugas II : Gunakan lebih dari 5 teknik dalam section kali ini untuk memperbaiki photo.
Summary
Section 4 : Teknik Retouching foto potret RAW di Photoshop
Introductory to Section
Mengenal filter Camera RAW
Mempertajam dan menghaluskan dengan Camera RAW
Membuat warna pop di RAW
Menghapus noda di RAW
Selectitive Adjustment dalam RAW
Tugas III : Menggunakan filter Camera RAW di photoshop
Summary
Section 5 : Efek khusus dan stylizing foto potret di photoshop
Introductory to Section
Pengantar efek khusus pada foto potret
Menambahkan kontras pada foto
Menmabahkan warna pop di potret
Efek kolase foto
Efek pop out
Teknik lens flare yang dapat diedit
Simulasi efek blur pada lapangan
Menambahkan background yang lebih powerful
Bertemu dengan klon anda
Tugas IV : Terapkan efek khusus dan stylizing pada foto
Summary
Section 6 : Konversi foto potret hitam putih artistic di photoshop
Introductory to Section
Konversi warna BW menggunakan channel layer
Konversi warna BW dengan channel kombinasi Layer mask
Konversi warna BW dengan layer adjustment BW
Konversi warna BW menggunakan channel mixer
Konversi warna BW dengan gradient map
Konversi warna BW dengan Filter camera RAW
Tugas V : Mengkonversi foto anda menjadi hitam putih yang artistik
Summary
Section 7 : Organizing foto dan action
Introductory to Section
Organizing photo di adobe bridge
Membuat Action dan cara menggunakan action
Summary

TCSA Academic Team
Design Division
With both teaching and professional experiences, Our academic team has developed this content to bring you a comprehensive course that you build your competency to match the requirements in the professional environment.
Additional information
| | |
| --- | --- |
| Author / Publisher | CSA |
| Level | Beginner, Intermediate |
| Language | Indonesian |
Certificate
When you enrolled into this course you will automatically get a Certificate of Achievement for completing the course. An example is provided below.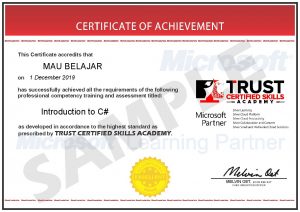 ---
Only logged in customers who have purchased this product may leave a review.