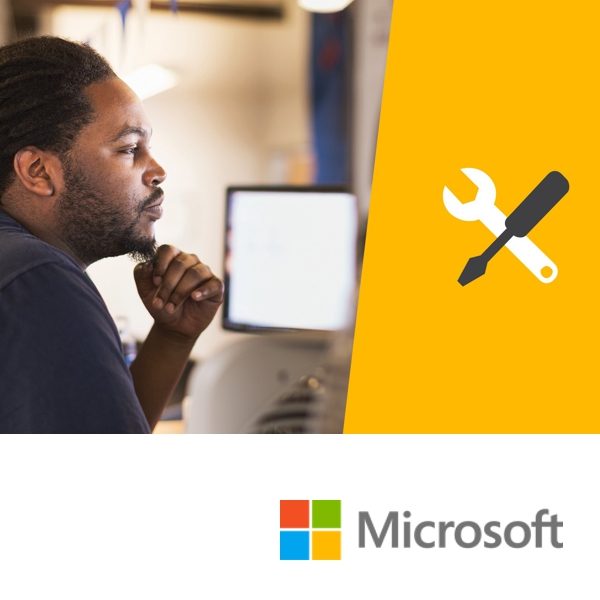 IT Support: Fundamentals
Rp500,000
Description
Unit Outline
Instructor
Additional information
Certificate
Reviews (0)
Description
About This Course
This course is part of the Microsoft Professional Program Certificate in IT Support.
In this course, you will be introduced to and better understand the role of an IT support agent, including core priorities and key responsibilities. You will learn how to improve your support skills by interacting with other roles and mastering specific performance skills.
The course then examines what influences customer behavior when dealing with IT Support, including global cultural differences and communication styles. The course concludes with an introduction to the basic stages of case management, from initial receipt of a support call through solution development and closure.
This is the first in a series of four courses that are targeted to individuals who are considering a move into IT Support.
What you'll learn
Introduce the support agent role
Identify the core priorities and key responsibilities of a support agent
Improve your support skills by interacting with other roles
Identify the performance skills a support agent should master
Understand what drives customer behavior when interacting with support agents
Examine how cultural dimensions and communication styles affect customer behavior
Learn how different cultures view time
Prerequisites
There is no prerequisites for this course.
Estimate Time : 12-16 hours
Module 1 Introduction to the Support Agent Role

The Support Agent Role
Key responsibilities
Skills and Competencies
Core Priorities
Support Model
Compensation and Rewards
Lab
Module 2 Global Cultural Competence

Understanding what drives Behaviour
Cultural Dimensions
Communication Styles
Time Orientation in Different Cultures
Lab
Module 3 Introduction to Case Management

Case Flow Stages
Assignment
Scoping
Solution Development
Solution Validation
Closure
Lab


Bernie Lawrence
CEO
Lawrence Associates LLC
Bernie Lawrence is founder and CEO of Lawrence Associates LLC. Prior to starting Lawrence Associates LLC, he served as Vice President of Consulting, Sales and Marketing, and as a Managing Director of Business Consulting with Immedient Corporation, Microsoft's largest privately-held solutions provider. He has a BS in Administration & Management Science and Economics from Carnegie Mellon University and an MBA in Finance from C.W. Post University.


Tony Frink
Senior Content Development Manager
Microsoft
Tony Frink is a 35 year veteran of the IT industry, with a background in ERP technologies, Microsoft Dynamics CRM, and Microsoft Office. He spent the first 18 years of his career in ERP software development and professional services management. He has spent the past 17 years with Microsoft and is currently a Senior Content Development Manager on the Cloud Productivity team at Microsoft Learning. He is responsible for developing training content about Office 365 and related products, as well as IT Support topics.


Mike Orlowicz
Business & Financial Consultant / IT Course Development & Delivery
Lawrence Associates LLC
With 40 years of professional experience Mike combines technical and business acumen with his coaching skills to provide his clients' the knowledge they need to develop, deliver, and justify financial business cases for major investments. Mike regularly works with executives in private and public organizations to develop and deliver economic justifications for multi-million-dollar information technology investments. Over the past 10 years, he has also used that background as a basis for developing and delivering a variety of training courses for IT professionals.
Additional information
| | |
| --- | --- |
| Author / Publisher | Microsoft |
| Level | Beginner, Intermediate |
| Language | English |
Certificate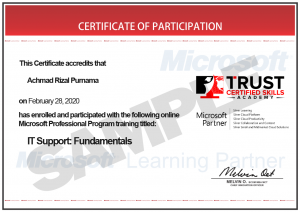 ---
Only logged in customers who have purchased this product may leave a review.